Jimmy Fallon is no stranger to epic television moments. He always surprises audience members and viewers everywhere when he drops something huge. Videos go viral, celebrities trend on twitter, and The Tonight Show quickly becomes a 'must watch'.
His latest moment that definitely made T.V history, bringing out legendary television host, Don Francisco. A household name to any and all Latino families, Don Francisco on The Tonight Show, it's everything we've ever wanted but never knew we needed.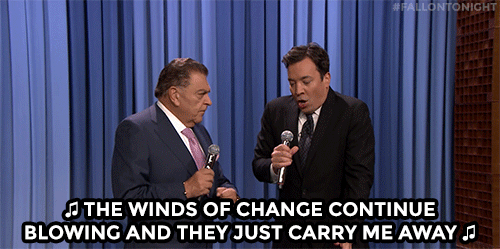 Fallon did his bit where he looks through his audience suggestion box. He read a suggestion that said, "Hey Jimmy, I heard Don Francisco from Sábado Gigante is now on Telemundo doing a show on Sunday nights titled, Don Francisco te Invita. You should have him on your show." After 53 years of hosting Sábado Gigante, Mario Luis "Don Francisco" Kreutzberger, stepped away from his famous show. He quickly made his television comeback by heading to Telemundo and announcing his new show, Don Francisco te Invita.
Jimmy continues, "I love Don Francisco; he's a legend. I'd love to have him on. But unfortunately, there's no way to get him here right now." He gives his audience the hope they need by saying, "Well there is one way. Legend has it that he can be summoned through the power of song. I can give it a try."
The rest, well the rest was T.V magic.
https://www.youtube.com/watch?v=M4Hs_7m44xg
We need to see more moments like these on television.
Thanks for inviting me @JimmyFallon, had a great time @FallonTonight. Now is your turn to sing in Spanish #JaimeFallón at @DonFranciscoTV https://t.co/s94hDaxyAP

— DON FRANCISCO TV (@DonFranciscoTV) November 2, 2016
Catch The Tonight Show Starring Jimmy Fallon weeknights 11:35/10:35c on NBC. You can also catch Don Francisco te Invita Sunday nights at 10/9c on Telemundo.