The cover for February's Interview Mag mirrors an intimacy that singer-songwriter Solange Knowles puts into her work and even her latest interview. While it may come across as a bit unconventional, this interview had amongst two sisters, is just another embodiment of the type of work this artist creates. It is personal and incredibly revealing.
Solange went number one with her latest album, "A Seat At The Table" and says it's her most personal piece of work yet.
In the interview, Beyoncé asked questions that divulged into Solange's artistic direction, significance of family, and her views on being a strong woman.
Solange said, "There were things that had been weighing heavy on me for quite some time. And I went into this hole, trying to work through some of these things so that I could be a better me and be a better mom to Julez and be a better wife and a better friend and a better sister. Which is a huge part of why I wanted you to interview me for this piece. Because the album really feels like storytelling for us all and our family and our lineage."
When asked about the cover for her album she responded, "I wanted to create an image that invited people to have an up-close and personal experience—and that really spoke to the album title—that communicated, through my eyes and my posture, like, "Come and get close. It's not going to be pretty. It's not going to be perfect. It's going to get a little gritty, and it might get a little intense, but it's a conversation we need to have",
While the I love the entire interview, I'd say one of my favorite parts was when Beyoncé asked, "No Me Queda Mas" or "I Could Fall in Love"?
Her answer? Hint: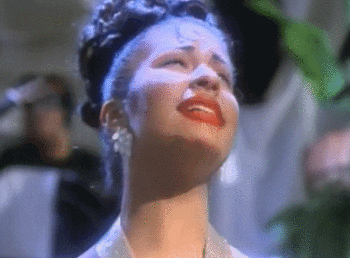 "A Seat At The Table" is truly a moving piece of art.
Click here for the entire interview.